Why Central Floridians call us for tile roofing
Tile roofing is becoming an increasingly popular option among clients. They are known for their beauty but also their durability. These are ideal materials for coastal regions such as Florida. Find out why tile roofing could be a good product choice for your property below.
You can't underestimate the tons of advantages that come from tile roofing. Possibly more than other types of materials, tile roofing carries a lot of desirable benefits. Check out some of the great points below!
A tile roof can last over 75, that's more than the average person's lifespan. The durability is only increased when installed in the proper climate. Concrete or clay tiles are known to withstand fires, high winds and heavy hail. On top of their 50-year warranties, once installed, you rarely will have to worry about replacing it.
One of the best things we can give clients is variety. Tile offers a variety of options from clay to concrete and even slate. These diverse offers go deeper when you go into the colors and styles to match any home. From contemporary to medieval, when you go with tile, the road of options seems endless.
After contacting us for installation, homeowners have a huge benefit to look forward to in low maintenance. Leaks are virtually unheard of with tiles alongside rarely requiring repairs of any kind.
Since tile is made from earth minerals rather than chemicals, it can be recycled when removed. This means your ecofootprint will be small and you are improving the world without even lifting a finger.
Invulnerable to Rot and insect Damage
Unlike many other materials, tile roofs will never decay or fall prey to insect damage. When you install a tile roof, this is one less thing to worry about.
The Types of Tile Roofing
You can't underestimate the advantages that come from tile roofing Take a look at the several different concrete profiles there are to choose from.
American Made. American Owned.
Eagle Roofing Products is a division* of Burlingame Industries, a California based privately held, family-owned organization. From these family roots, our business philosophy and vision have blossomed.
Founded three decades ago by Robert Burlingame, Eagle began operations in the fall of 1989 with just one high-pressure concrete tile extrusion machine located in Rialto, California. In a ten-year period, the Rialto plant serviced all of California, Arizona and Nevada with a capacity to produce concrete roof tile for over 83,000 homes per year. Fast forward to present day and Eagle's Rialto facility continues to be the largest in North America. In addition to Rialto, we have manufacturing plants in Phoenix, Arizona, as well as Stockton, California and Sumterville, Florida meeting the demand for concrete roof tile across the United States and Canada.
Furthermore, Eagle has grown to a workforce of over 800 employees that are knowledgeable in not only concrete roof tile but in regional trends and needs. Our expertise in the building and roofing industries, coupled by our extensive array of profiles and colors, enables us to provide our customers with high quality concrete roofing products that are aesthetically beautiful, long-lasting and environmentally friendly.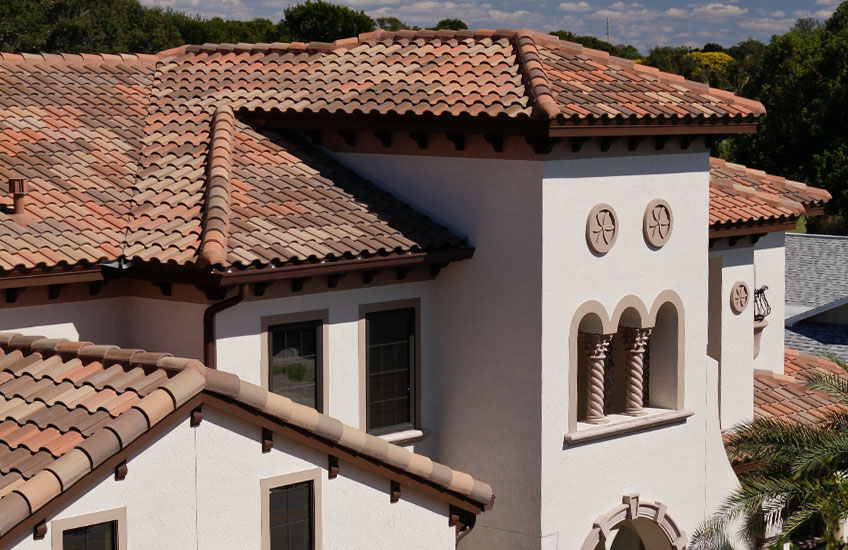 Concrete Barrel Profile Tiles
Barrel roof tiles, otherwise known as S-Tiles, are semi-cylindrical shaped and the most traditionally recognized of all tile profiles. The barrel profile is beautiful and timeless, emulating the authentic look of Spanish tile found in the Old World.
These profiles come in a vast array of colors from terracottas to warm earth tones to cool grays and refreshing greens, as well as in exquisite blends that were designed to emulate the classic look of real clay tiles. Many of these colors and blends are Energy Star® and Cool Roof rated products that can qualify for LEED points and save customers money and energy.

While you may think a concrete tile roof is suitable for only Spanish or Italian stucco architecture, it actually is a gorgeous and versatile roofscape that works well with any architectural style, as it pairs nicely with stucco, stone or brick siding. It is used widely on residential, commercial, military and institutional buildings throughout the United States.
Concrete Flat Profile Tiles
Flat Concrete Roof Tiles refer to a variety of profiles completely lacking in any barrels or rolls. Increasingly popular with designers, architects and home buyers, a flat tile roof offers a crisp, clean appearance that perfectly complements both traditional and modern architecture. Depending on the look you are after, flat tiles can emulate the texture surfaces and style of other roofing materials such as wood shake, clay and slate – and is a much more affordable alternative.
Flat profiles offer graceful beauty, rugged strength and enhanced curb appeal. No matter where you live, it's the perfect choice for any climate. Concrete Tile Roof is incredibly durable to resist high winds and hail damage, and is also a Class A roof covering. In addition, concrete roof tile is an excellent insulator, keeping your home or commercial building cooler in the summer and warmer in the winter, helping reduce energy costs. Plus, there is a wide selection of Cool Roof Tile colors available for reroof and new construction projects, which are approved by Energy Star® and the Cool Roof Rating Council (CRRC) for reflectivity.
Call Fiddlers For All Your Tile Roofing
We have the experience and wealth of materials to provide the perfect tile roof for your property. Call us to find out how you improve your home today with tile roofing!