Country Manor Shake
Country Manor Shake is a lifetime roofing system of the highest quality and design for metal shingles . Our industry-leading PVDF coating is guaranteed to resist fading and chalking, and the four-way interlocking panels will withstand hurricane strength winds and hail.
Rustic Metal Shingle
Rustic Shingle is an investment-grade metal roofing system that provides beauty, protection, and increased value. The 12" x 24" fully interlocking panels hold tight in even the most severe winds while the product's low weight encourages installation over existing shingles.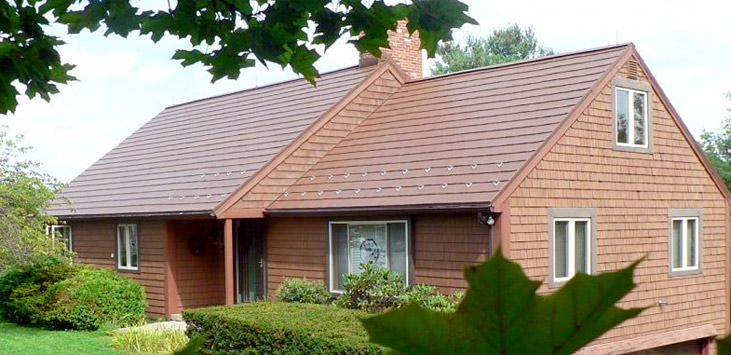 Oxford Metal Shingle
Oxford Shingle blends with any architectural style and in any neighborhood. While conducive to shedding winter snowloads, the low profile panels feature a heat-reflective coating that keeps homes cooler in summer and reduces air conditioning expense.
Slate Rock Oxford
The Slate Rock Oxford Shingle is a unique product that combines the proven design and integrity of Oxford Shingle with the colors and texture of fine slate roofing. Our proprietary four-layer PVDF coating from Valspar is applied in a unique print process that enhances Oxford Shingle's three-dimensional detail.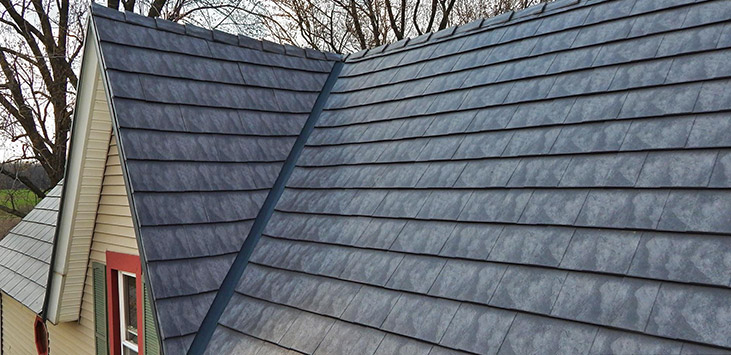 The Craftsman Shake
The Tilcor Shake textured-finish tile features the wood-grain appearance of traditional shake. Its deep-ribbed profile is designed to enhance the shadow lines and create visual contrast. With Tilcor Shake you can enjoy this look combined with all the benefits of stone-coated steel: exceptional weather and fire resistance, and long life.
CF Shingle
CF Shingle has been specifically designed for the North American market to resemble the look of traditional Asphalt Shingles but without the inherent ongoing issues that many homeowner's face. Its innovative fully Concealed Fastening system is truly a world first. Unlike other systems, which leave gaps and screws exposed to the elements, our unique CF Shingle protects all fastening elements making roofs more reliable, watertight and durable than ever before.